At Wings of Worship Aviation, guided by our faith and a deep sense of purpose, we are dedicated to uplifting hearts and inspiring dreams through the realm of aviation. As a nonprofit organization, our mission is to provide a platform where the wonders of flight become a vessel for spiritual growth, exploration, and community engagement. With unwavering commitment, we aim to nurture a love for aviation while fostering a deeper connection with the divine, creating a space where the skies above reflect the boundless possibilities within each soul. Through our unique blend of faith, flight, and fellowship, we strive to empower individuals to soar beyond their limits, all while embracing the values of unity, compassion, and shared purpose. Wings of Worship Aviation is a registered 501(c)3 Nonprofit. EIN: 93-3179857.
About Me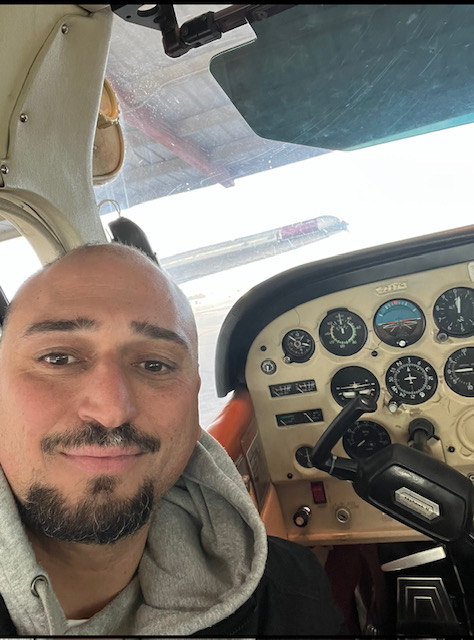 Hi, my name is Nas Erakat. I guess you can say that I'm an "Aviation Nerd". I started Wings of Worship Aviation to be able to share my passion with future aviators. I'm a licensed Commercial Pilot and an Airframe and powerplant Mechanic. I got the itch to fly when I was very young, maybe around 3yrs or 4yrs old. As I started to grow up, I knew what I wanted to be when I grew up. I wanted to be an Airline Pilot. Throughout my childhood, I loved everything about Aviation. I watched movies, I learned different models and I would go to the Airport just to watch planes. When I was 13 years old I had a chance to go up with an Aerobatic Pilot. I was introduced to Eddie Andreini through a mutual friend. Eddie was so gracious and took me up twice. I only wished that I was able to share my experiences with Eddie, but unfortunately, he lost his life while performing in 2014 at an Airshow in California.
Unfortunately, my flight plan to become an Airline Pilot encountered some turbulence. After high school, I was going to attend a Flight School to get all my ratings but that did not go as planned. I ended up going to school to get my Aircraft mechanic license. I completed the program in 1999. I was not able to find a job as an airplane mechanic. Eventually, I was able to get part of my dream when I received my private pilot license in August of 2001. But I had to change my dream of becoming an Airline Pilot in September 2001.
I ended up in Information Technology and it has been a rewarding career. But I knew I was missing something. I started to get the itch to fly again. In 2020, I started to fly and had a goal. I currently have a Commercial Single Engine Land, Instrument Rating, and a Private Multi-Engine with my Commercial Multi-Engine check ride coming up soon. I have accumulated around 545hrs and counting.
That is a little about my journey. The reason I started Wings of Worship Aviation, is to be able to help young Aviators pursue their dream.